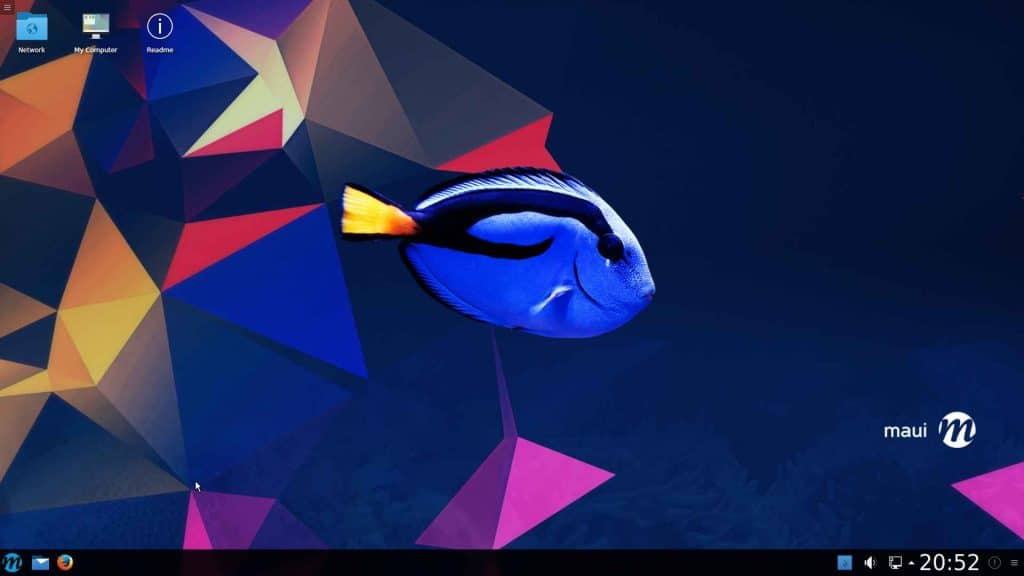 Maui 2 "Blue Tang"
The Maui team is happy to announce the release of Maui 2 – 64bit version.
This is our second version of Maui which comes with plenty new features and fixes based on Plasma 5.8.2, KF 5.27 and Qt 5.7.0.
We also provide the latest LTS Linux Kernel 4.4 together with an updated Ubuntu 16.04 LTS base system.
Firefox was updated to version 49 and Thunderbird to version 45.
New Repositories

Just like announced in the Updating Maui 1 -> Maui 2 Repos and Backports ( https://mauilinux.org/updating-maui-2-maui-backports/ ) we decided to move our repositories to a new infrastructure and cloned the Neon based repo so we have control over when to push new updates to the user and let the users themselves decide when they want to move to a new Plasma version or KDE Frameworks 5 version.
That way we provide a very stable KDE Plasma user experience without losing the option to have the latest and greatest of KDE Plasma.
Calamares Installer
In order to streamline the installation process we decided to switch to the distribution independent installer Calamares. This one installs automatically all language packs for the default applications shipped with Maui and the language you choose during installation. In order to use this feature please have network access configured in the live enviornment. This should also support more UEFI installations than with the prior version of Maui.
Driver Manager is back
This release also comes with a few new features just like the driver manager allowing you to install proprietary drivers for graphicscards or wifi chips.
We also added in a control module for configuring systemd services from the systemsettings.
In order to provide a better integrated partitionmanager we replaced gparted with the KDE Partition Manager.
For better translation support in the mintUpdate tool we also added mint-translations.
We also fixed several issues regarding the KDE Telepathy Instant Messenging feature that should work out of the box now.
The KDE Remote Desktop Client is back and shipping by default in this version.
As the vector editing software karbon is not longer maintained we decided to switch to Inkscape instead which ships by default now.
You can get the new version fresh from our download site ( https://mauilinux.org/download/ )
If you are using Maui 1, please look here how to upgrade to Maui 2: https://forums.mauilinux.org/showthread.php?tid=24012&pid=39610#pid39610
If you have questions or want to report problems visit our forums ( http://forums.mauilinux.org/ )